Police: Arrest in NJ Walmart racial comment caseWASHINGTON TOWNSHIP, N.J.
– Police say they have made an arrest in the case of a racial comment being made over the public-address system at a Walmart store in southern New Jersey.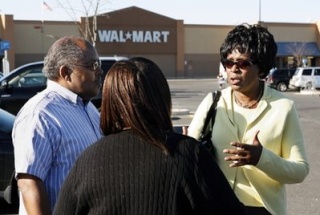 The Washington Township Police Department said on its Web site early Saturday that an arrest has been made in a "bias incident" at the retail store. The posting says the police and Gloucester County Prosecutor's Office will announce the arrest at a midday news conference.
Washington Township Police declined to comment early Saturday.
A male voice came over the Walmart public address system Sunday evening and calmly announced: "Attention, Walmart customers: All black people, leave the store now." The announcement provoked an immediate apology from the store manager.
Officials for Bentonville, Ark.-based Wal-Mart Stores Inc., said the announcement was "unacceptable."
Source: Yahoo/AP