Catholic Churchs sex abuse scandal goes global(CNN) --
As the Vatican announced Friday that Pope Benedict XVI has signed a pastoral letter about Ireland's abusive priests, it became increasingly clear that the church abuse crisis has entered a new international phase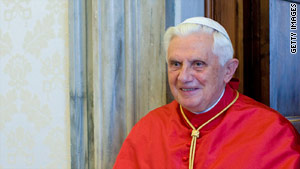 with allegations spreading across a half dozen countries -- including the pope's native Germany.
"Now we have obvious confirmation that this is a global crisis," said John Allen, CNN's Vatican analyst and senior correspondent for the National Catholic Reporter. "Anywhere there is a substantial Catholic population there is the potential for this type of scandal."
Allegations of church-based sex abuse are increasing across Europe, including in Austria, Germany, the Netherlands, Spain and Switzerland. New abuse allegations have surfaced in Brazil, home of the world's largest Catholic population.
Ireland continues to wrestle with the fallout from years of revelations about abusive priests. It wasn't until this week that Ireland's top Catholic cardinal acknowledged the church's response to the abuse had been "hopelessly inadequate."
The pope's letter on Ireland's church scandal will be released Saturday, a Vatican spokesman said. "My hope is that it will help in the process of repentance, healing and renewal," Benedict said earlier in the week.
But new revelations about church abuse continued Friday, including in the Munich, Germany, archdiocese where Benedict once served as archbishop.
While few Vatican watchers expect Benedict to step down over the growing crisis, the German charges are bringing the scandal closer to this pope than to any of his predecessors. "The scandals threaten his reputation in terms of how he governs the church," said Allen. "But there's also a threat to his personal reputation and moral authority."
Under the pope's tenure as archbishop in the early 1980s, the Munich archdiocese ignored warnings to keep a molesting priest away from children, the doctor who issued those warnings said Friday.