George W. Bush and Bill Clinton calling for solidarity in Haiti Haiti:
Former U.S. presidents George W. Bush and Bill Clinton on Monday called for solidarity with Haiti, devastated by an earthquake January 12, as part of a humanitarian mission in the poorest country in the Americas.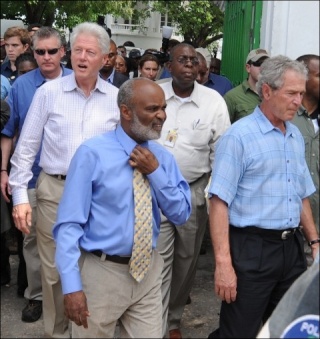 "Our mission here is to remind the American people that there is still much suffering in Haiti and that much remains to be done," Bush said, which was the first visit to Haiti.
The two former U.S. presidents have created the "Bush-Clinton Fund for Haiti" (www.clintonbushhaitifund.org) at the request of their successor Barack Obama, just days after the tremblemnt of land that has killed more than 220,000 Haitians.
Around the presidential palace, where MM. Bush and Clinton were received by President René Préval, hundreds of protesters kept away by police and peacekeepers of the UN have protested against the presence of President Bush and demanded the return home of former President Aristide into exile in South Africa.
Mr. Aristide left office under pressure from an armed insurrection and the French and American governments, while Mr. Bush was at the White House.
"Our mission with the Foundation (Clinton-Bush) is to cope with the emergency but also to help Haitians to go beyond the emergency plan for the development of their country," said Bill Clinton in which c It was the third visit to Haiti since the earthquake of January 12.
"Preval does nothing for us. You must do something for the country," shouted a woman passing of former U.S. presidents when they visited a refugee camp near the presidential palace.
The two men also pledged to encourage the international community to give more money to Haiti during the Conference scheduled March 31 in New York.
"We must also ensure that pledges are paid and that money is well spent," Clinton said at a press conference along with MM. Bush and Preval.
Source: Lenouvelliste (French)
Levanjiltv: English Translation