Haiti: Ban Ki-moon calls for rebuilding a "total" Haiti:
The Secretary General of UN, Ban Ki-moon, called on the international community to promote a "total national renewal" in Haiti after the devastating earthquake of January 12.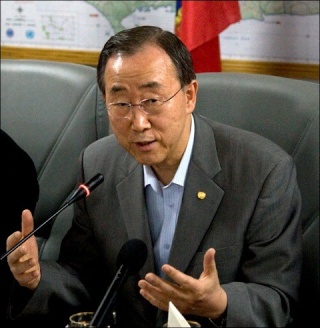 "As we move from relief to reconstruction in the longer term, we must recognize that we can not content ourselves with the ordinary," Mr. Ban wrote in an article published by The Washington Post. "what we imagine today is nothing but a total national renewal."
More than one hundred countries meet Wednesday in New York headquarters of the UN conference on financing the reconstruction of Haiti.
Participants must review a project after which an Interim Commission for the Reconstruction of Haiti partition nearly four billion dollars between several specific projects and programs over the next 18 months, said Ban Ki-moon.
Requirements for the reconstruction of Haiti over the next 10 years will amount to about 11.5 billion dollars, he said.
"It is clear that this aid must be well spent and well coordinated," said Ban. "It should contribute to an emergency aid continues: food, sanitation and, what is most urgent for the moment, shelter," he said, referring to the imminent the rainy season, followed by hurricanes.
Source: Lenouvelliste (French)
Levanjiltv: English Translation