Group arrested not Christian or militia, insider says(CNN) --
Members of a militia charged with plotting to kill police were not Christian or a militia, a man acquainted with the group said Tuesday.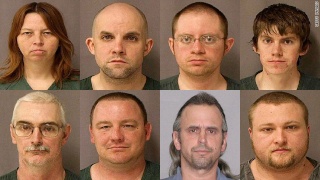 "This is a group that I would classify as neither a militia or a Christian group," said Michael Lackomar, a member of the Southeast Michigan Volunteer Militia. "They're really a fringe group outside of anything we do.
"They're more of a private army or a terrorist organization or really just a criminal organization."
Federal authorities on Monday charged nine members of a group called the Hutaree militia with conspiring to kill a Michigan law enforcement officer and then kill other officers at the funeral.
The group says on its Web site that Hutaree means "Christian warrior." Its home page said it is "Preparing for the end time battles to keep the testimony of Jesus Christ alive."
Lackomar told CNN's "American Morning" on Tuesday that five Hutaree members sought refuge over the weekend with a Southeast Michigan Volunteer Militia leader because federal authorities were looking for them. Lackomar said the member of his militia advised the Hutaree members to turn themselves in so no one would get hurt.
Federal authorities arrested eight Hutaree members over the weekend. A ninth member was arrested Monday night.
A federal grand jury in Detroit, Michigan, indicted six Michigan residents, two Ohioans and an Indiana resident on charges of seditious conspiracy, attempted use of weapons of mass destruction, teaching the use of explosive materials and possessing a firearm during a crime of violence, said U.S. Attorney Barbara L. McQuade and Andrew Arena, FBI special agent in charge.
Read the indictment (PDF)
The five-count indictment unsealed Monday said the plot started in August 2008.
Attorney General Eric Holder called it "an insidious plan by anti-government extremists."
In the "About Us" section of the Hutaree Web site, the group says, "We believe that one day, as prophecy says, there will be an Anti-Christ. All Christians must know this and prepare, just as Christ commanded."
The Southern Poverty Law Center, an Alabama-based nonprofit organization that monitors hate groups and other fringe organizations, lists the Hutaree as a "Patriot" group militia.
"Generally, Patriot groups define themselves as opposed to the 'New World Order,' engage in groundless conspiracy theorizing or advocate or adhere to extreme anti-government doctrines," the center said in a report, "Rage on the Right: The Year in Hate and Extremism."
The center also defines Patriot groups as "militias and other organizations that see the federal government as part of a plot to impose 'one-world government' on liberty-loving Americans."
The suspects were identified as militia leader David Brian Stone, 45; his wife, Tina Stone, 44; his son Joshua Matthew Stone, 21, of Clayton, Michigan; another son, David Brian Stone Jr., 19, of Adrian, Michigan; Joshua Clough, 28, of Blissfield, Michigan; Michael Meeks, 40, of Manchester, Michigan; Thomas Piatek, 46, of Whiting, Indiana; Kristopher Sickles, 27, of Sandusky, Ohio; and Jacob Ward, 33, of Huron, Ohio.
A bond hearing has been set for 1 p.m. Wednesday.
Court-appointed counsel will be assigned to the seven suspects who were in court Monday because none of them had attorneys.
According to the indictment, Hutaree members view local, state and federal law enforcement authorities as the enemy and have been preparing to engage them in armed conflict.
The indictment alleges the Hutaree planned to kill an unidentified law enforcement officer in Michigan and then attack officers and others who would gather for that officer's funeral. According to the plan, the indictment said, the Hutaree wanted to use improvised explosive devices to attack law enforcement vehicles during the funeral procession. The indictment said those explosive devices, commonly called IEDs, constitute weapons of mass destruction.
Subsequently, the indictment said, Hutaree leader David Brian Stone obtained information about IEDs over the Internet and e-mailed diagrams to a person he believed could manufacture them. He then had one of his sons, Joshua Matthew Stone, and others gather materials necessary to manufacture IEDs, the indictment alleged.
According to the indictment, David Brian Stone and David Brian Stone Jr. taught other Hutaree members in June how to make and use explosive devices.
In addition, the grand jury charged all nine defendants with carrying or possessing a firearm during a crime of violence on at least one occasion.
"Because the Hutaree had planned a covert reconnaissance operation for April which had the potential of placing an unsuspecting member of the public at risk, the safety of the public and of the law enforcement community demanded intervention at this time," said McQuade, the U.S. attorney.
Source: CNN