Flooding 'none of us alive have seen' (CNN) --
The water-weary Northeast, particularly Rhode Island, braced for more misery Wednesday as it battled flooded roads and basements.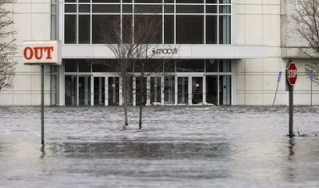 "We're just all ready to throw the keys on the counter and walk out of the houses," one Cranston, Rhode Island, resident said. "It's at that point now, you know?"
The rain eased Wednesday after a storm soaked the area, exacerbating remaining effects of another major storm two weeks ago.
Rhode Island appeared to fare the worst. The storm dumped 8.75 inches of rain in East Providence, 7.6 inches in downtown Providence and 5 inches in Cranston, said Tom Econopouly of the Northeast River Forecast Center in Taunton, Massachusetts.
"I can turn on the jet skis and go for a ride," one Rhode Islander said. "What can you do? Mother Nature's winning."
All eyes were on the Pawtuxet River, which runs through Cranston. The river reached 20.7 feet by 8 a.m. ET Wednesday -- a level nearly 12 feet above flood stage, according to the National Oceanic and Atmospheric Administration.
"We have some historic flooding going on in places we've never had flooding before," said Cranston police Lt. Stephen Antonucci. "We have numerous streets that are closed, and they're telling us the worst is still yet to come."
Cranston Mayor Allan Fung said his city was facing "dire circumstances," even though the weather was now cooperating.
"One of my sewer pump stations just failed, so it's some bad news for many of the residents," Fung told ABC's "Good Morning America."
He said the city was asking people to conserve water.
About 130 homes have been evacuated, many voluntarily, Fung said.
Schools were closed, as were some roads. "It's some very dangerous conditions," he told ABC.
The state shut down parts of Interstate 95 in both directions. President Obama on Monday extended a state of emergency for all of Rhode Island -- freeing up federal dollars to help with relief efforts.
A spokesman for National Grid Energy Services said 12,000 to 14,000 customers were without electricity in the Cranston area, where a substation was underwater.
In Westerly, another 9,600 customers were in the dark, the spokesman said. He told residents to expect rotating outages for "a period of days."
"None of us alive have seen the kind of flooding we are experiencing now," Rhode Island Gov. Donald Carcieri told reporters Tuesday night, calling the downpour an event that occurs once every 100 years to 500 years.
See Rhode Island's roads under water
In Connecticut, Gov. Jodi Rell said a state of emergency remains in effect. "The relentless rain has created extremely dangerous situations, especially in eastern Connecticut," she said.
Rell saud she has directed the Department of Public Safety to reassign all available state troopers to eastern Connecticut to assist with road closures and other emergencies.
The Yantic River set a record when it crested Tuesday at 13.6 feet -- 4.6 feet above flood stage -- in Yantic.
Floodwaters rush through "Mystic Pizza" town
Yet another record was predicted for Saxonville, Massachusetts, where the Sudbury River was expected to reach 13.4 feet Wednesday afternoon. The flood stage is 10 feet.
Four to 7 inches of rain has fallen in eastern Massachusetts, said Scott MacLeod, a public information officer with the Massachusetts Emergency Management Agency in Framingham.
Most of the flooding occurred in southeastern Bristol County, where about 200 people were evacuated, he said.
Massachusetts Gov. Deval Patrick has declared a state of emergency and activated the National Guard.
A handful of shelters were open, though few people were staying in them, and there were no reports of power outages, MacLeod said.
"It's mainly flooding issues -- closed roads, flooded roadways and basements," he said.
Source: CNN