7.8-magnitude quake strikes Indonesia(CNN) --
A tsunami watch was in effect for Indonesia after a 7.8-magnitude earthquake rattled the nation early Wednesday, according to geological officials.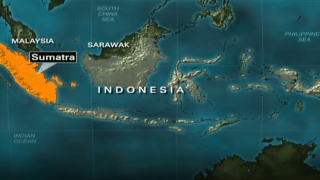 The temblor struck 125 miles off the coast of Sibolga on Indonesia's Sumatra island, the U.S. Geological Survey reported. The quake hit at a depth of 28.6 miles at 5:15 a.m. (6:15 p.m. ET, Tuesday) USGS said.
There were no immediate reports of damage or injuries.
A "destructive widespread tsunami" is not expected, the Pacific Tsunami Warning Center said, but a local tsunami could affect coastal areas within 62 miles (100 kilometers) of the quake's epicenter.
Did you feel the quake? Share your story
Scientists are monitoring data from ocean buoys to determine whether the earthquake already generated a tsunami, said geophysicist Gerard Fryer of the Pacific Tsunami Warning Center.
If a tsunami does erupt from the quake in shallow waters, Fryer said, it would be very small and not move much water.
Scientists said they do not expect the tsunami to affect the west coast of North America.
Source: CNN