By GEOFF MULVIHILL, Associated Press Writer Geoff Mulvihill, Associated Press Writer
HOBOKEN, N.J.
– Police boats and divers on Sunday recovered a piece of a submerged helicopter and a body as investigators resumed their search of the Hudson River for wreckage from the helicopter and a small plane that collided in midair.
Investigators also renewed their search for pictures and video of Saturday's accident, which was seen by thousands out enjoying a beautiful summer day.
Nine people — three members of a Pennsylvania family in the private plane, five Italian tourists and a pilot from New Jersey in the Liberty Tours helicopter — died in Saturday's collision, the city's worst air disaster since a 2001 commercial jet crash in Queens that killed 265 people.
The fourth body was recovered by midmorning Sunday; the body was a torso found stuffed in the fuselage of the helicopter wreckage, two law enforcement officials told The Associated Press. The officials spoke on condition of anonymity because all the bodies have not yet been recovered or identified.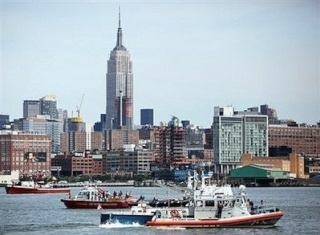 National Transportation Safety Board Chairman Debbie Hersman said a nearby helicopter pilot saw the plane approaching the in-flight helicopter and tried to alert his fellow chopper pilot.
"He radioed the accident helicopter and told him, 'One-lima-hotel. You have a fixed-wing behind you.' There was no response from the pilot," Hersman said.
The pilot then saw the plane's right wing clip the helicopter, and both aircraft split apart and fell into the river, she said.
The two aircraft went down just south of the stretch of river where a US Airways jet landed safely seven months ago. But this accident was, in Mayor Michael Bloomberg's words, "unsurvivable."
On Sunday morning, New York Police Department boats about 100 yards from Hoboken's waterfront circled three buoys that marked the wreckage of the helicopter, and three New Jersey State Police divers were in the choppy waters. The plane had not yet been found.
A U.S. Army Corps of Engineers crane was moved up the river near the helicopter wreckage, which authorities hoped to remove by Sunday.
Hersman said the river's strong currents and poor visibility hampered divers' efforts to recover the bodies and wreckage.
She said she did not know if there were black boxes or other recording devices on the two aircraft. Aircraft of their size are not required to have such equipment.
Hersman said investigators were hoping to find photos and video of the accident that could help them determine what happened. A handful of photos have surfaced in the media, including at least one showing the moment of impact.
The helicopter company, Liberty Helicopters, released the name of the pilot in the crash: Jeremy Clark, of Lanoka Harbor, N.J.
The plane's pilot was 60-year-old Steven Altman, of Ambler, Pa., the two law enforcement officials told the AP. Also in the plane were 49-year-old Daniel Altman, of Dresher, Pa.; and his 16-year-old son, Douglas, the officials said.
The five tourists were from the Bologna, Italy, area. The two officials identified them as 51-year-old Michele Norelli, 16-year-old Filippo Norelli, 49-year-old Fabio Galazzi, 15-year-old Giacomo Gallazi and 44-year-old Tiziana Pedroni.
The accident happened in a busy general aviation corridor over the river where pilots are generally free to pick their own route, as long as they stay under 1,000 feet and don't stray too close to Manhattan's skyscrapers.
The skies over the river are often filled with pleasure craft, buzzing by for a view of the Statue of Liberty.
Saturday's accident recalled another crash involving New York Yankees pitcher Cory Lidle and his flight instructor, who died when their plane hit a skyscraper while flying a popular sightseeing route in 2006.
In January, the river was the scene of a spectacular aircraft landing that resulted in no loss of life after a US Airways flight taking off from LaGuardia Airport, in Queens, slammed into a flock of birds and lost power in both engines. The plane crash-landed in the river, and all 155 people on board were pulled to safety.
The NTSB has long expressed concern that federal safety oversight of helicopter tours isn't rigorous enough. The Federal Aviation Administration hasn't implemented more than a dozen NTSB recommendations aimed at improving the safety of the tours, called on-demand flight operations.
A report by the U.S. Department of Transportation's inspector general last month found that 109 people died in accidents involving on-demand flights in 2007 and 2008, while no one died in commercial airline accidents.
The plane, a Piper PA-32, was registered to LCA Partnership in Fort Washington, Pa. The address is shared by a real estate company run by Steven Altman. A woman who answered the telephone Saturday at Altman's home hung up, and police wouldn't let reporters enter a private driveway leading to the home.
Liberty Tours runs sightseeing excursions around the Statue of Liberty, Ellis Island and Manhattan at costs ranging from $130 to about $1,000.
Two years ago, a Liberty helicopter fell 500 feet from the sky during a sightseeing trip. The pilot was credited with safely landing the chopper in the Hudson and helping evacuate her seven passengers.
In 1997, a rotor on one of its sightseeing helicopters clipped a Manhattan building, forcing an emergency landing. No one was hurt.
___
Associated Press writers David B. Caruso, Verena Dobnik, Samantha Gross, Suzanne Ma and Amy Westfeldt in New York City, Beth DeFalco in Hoboken, N.J., Samantha Henry in Teterboro, N.J., Kathy Matheson in Ambler, Pa., Joan Lowy in Washington, D.C., Colleen Long in Chicago and AP News researcher Julie Reed contributed to this report.