MEXICO CITY (AFP)
- Miguel Sabah's 81st-minute goal lifted Mexico to a 2-1 victory over the United States in a 2010 World Cup qualifier in the North and Central America and Caribbean region on Wednesday.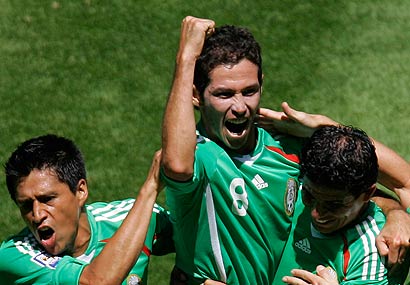 With the victory Mexico kept the United States winless at Azteca Stadium and bolstered their own chances of advancing from the six-nation final round of qualifying into next year's World Cup finals in South Africa.
Sabah, who came on in the 78th, needed just minutes to make his presence felt. He took full advantage of a ball from the left from Efrain Juarez and blasted past US keeper Tim Howard.
Charlie Davies had given the United States the lead with his ninth-minute strike off a brisk pass from Landon Donovan.
Israel Castro equalized 10 minutes later, his shot from outside the penalty area sailing just under the crossbar and out of reach of Howard.
Castro's equalizer energized the crowd of 90,000 at Azteca, who were keen to see Mexico repeat their 5-0 rout of a a young US side in the Gold Cup final last month.
While the United States fielded a stronger team for this qualifier, they still couldn't end their history of futility on Mexican soil.
Mexico had gone into the match lying fourth in the group, from which the top three teams automatically advance to the World Cup finals. The fourth-placed team will play off for a berth against a team from South America.
Costa Rica, who played at Honduras later Wednesday, led the group with 12 points, followed by the United States on 10. Mexico's victory moved them to nine points.
In the day's other match, winless Trinidad and Tobago hosted El Salvador.