TOA BAJA, Puerto Rico
– First, riot police raided the slum with batons and pepper spray. Then authorities shut off the water and electricity. With an eviction order pending in the courts, police stand sentry outside the shacks belonging mostly to Dominican migrants.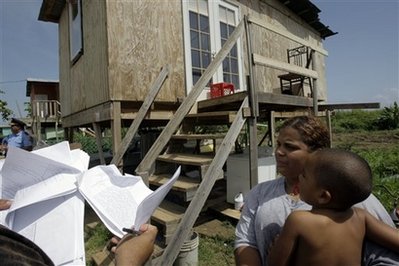 The Puerto Rican government says it's trying to clear a dangerous flood zone in Villas del Sol, a shantytown just west of the capital of San Juan. But residents say the show of force targets foreign laborers as Puerto Rico's unemployment rate tops 16 percent.
As jobs vanish in the global financial crisis, Caribbean governments are cracking down on undocumented migrants seeking work. The increased enforcement highlights deep economic divisions in a region where poor Dominicans, Haitians and Jamaicans seek better lives on more affluent islands such as the Bahamas, Antigua and Barbados.
And it's causing rifts among island governments, with some accusing others of violating the cooperation the region is trying to build.
"They want to scare us away," said Bianely Gonzalez, 32, a Dominican who came to Puerto Rico a decade ago on a homemade wooden boat and lives in a one-room, cinderblock home.
In the U.S. Caribbean territories and Florida, which are the biggest immigrant draw, deportations have nearly doubled from 7,176 in fiscal year 2006 to 13,622 last year.
The jump comes from a nationwide U.S. campaign to deport illegal immigrants with outstanding criminal warrants, said Ivan Ortiz, a spokesman for U.S. Immigration and Customs Enforcement in San Juan.
He agreed that enforcement is partly due to the softening American economy, but wouldn't elaborate.
Other islands couldn't provide similar deportation numbers. But the financial crisis has pummeled the islands' tourism-dependent economies, forcing hotels to close or cut back on staff. Tourist visits this year are down 9 percent in Barbados, 13 percent in the twin-island nation of Antigua and Barbuda and 15 percent in the Bahamas, according to statistics from the Caribbean Tourism Organization.
Antigua Prime Minister Baldwin Spencer recently announced the country can no longer sustain an "open and liberal" immigration policy because of the financial crisis and concerns about rising crime.
"The big question a lot of nationals are asking as they are being laid off is, 'Why are we still hosting so many non-nationals in the country? Why are they not sent back? Why are their jobs not being taken?'" said Ivor Walker, Antigua's chief immigration officer.
The same situation has played out in countries around the world as immigration policies are relaxed or ignored when businesses need cheap labor. When economies get tight, those workers are seen as taking jobs and undercutting wages.
But there's added tension in the Caribbean at a time when the islands are advertising together under a "One Caribbean" tourism campaign, and the 15-nation Caribbean Community has advocated the free movement of labor as part of an economic integration project.
"A lot of Jamaicans are finding doors to other nations shut in their faces," said Wilton Dyer, a spokesman for Jamaica's Foreign Ministry. "We have an open-door policy, but other countries tend to be more selective about how they let people across their borders. That is a big sore point."
Guyana has asked Barbados to explain its pre-dawn immigration roundups of Guyanese nationals.
"Those who are easily recognizable because of their ethnic features are given the brunt of the harsh treatment," Guyana's Foreign Minister Carolyn Rodrigues-Birkett told parliament — an apparent reference to Guyanese of South Asian descent.
Barbados Prime Minister David Thompson pledged to investigate allegations of mistreatment. But he makes no apologies for the crackdown on the island with a per capita income of $15,060, nearly four times that of Guyana.
Thompson announced last month that Caribbean migrants could apply for amnesty if they have been on the island for more than eight years, but others without papers would be removed.
Still, islands are not about to start withdrawing their ambassadors. Governments of less affluent countries say they expect neighbors to ease up on immigration enforcement once the global economy rebounds.
"We observe that because the world economy is not doing well, many of them close their doors," said Harold Joseph, Haiti's ambassador to the Bahamas, which reportedly deported 700 Haitians in one recent week alone. "We hope that there is a pickup in the U.S. and world economy."
In Puerto Rico, a U.S. territory, the federal ICE — not Puerto Rican authorities — handles immigration enforcement. But Dominicans say that doesn't stop local police from harassing them or turning them in to immigration authorities.
About 200 families live along muddy dirt roads in the Villas del Sol slum off a highway in Toa Baja, some of the 200,000 Dominicans on an island of 4 million people.
The shacks of plywood and cement blocks — abandoned a decade ago due to flooding from Hurricane Georges — were later claimed by immigrants and poor Puerto Ricans with nowhere else to live.
Puerto Rico authorities say the attempt to clear the area has nothing to with the economy.
But Gonzalez, a mother of four, said nobody tried to force her out when her husband could easily find jobs in construction and landscaping. Without services, she now relies on water from tanks delivered by the local mayor's office and a gas stove for cooking.
"This," she said, "is about discrimination."