Washington, DC (BlackNews.com)
- Five extraordinary people -- including an Afro-Colombian and a Haitian -- from Latin America and the Caribbean will be honored as the 2009 Heroes of the Hemisphere for their dedication to improving the lives of people in their communities, the Pan American Development Foundation announced today.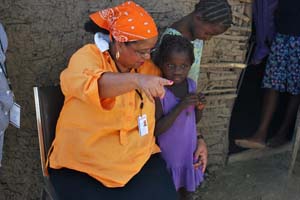 "When their neighbors were confronted with tremendous obstacles and circumstances, these individuals stepped in and made a significant difference," says Amy Coughenour, Deputy Executive Director of PADF. "These five honorees truly deserve to be called Heroes of the Hemisphere."
PADF, which created the Heroes of the Hemisphere to celebrate the achievements of people in Latin America and the Caribbean, will honor the five during a gala luncheon and celebration in Miami on Saturday, Oct. 24. This hemispheric gathering will unite 350 leaders from business, government, diplomacy, philanthropy and entertainment. President René Préval of Haiti has confirmed his attendance.
Nicole Muller César, Tabarre, Haiti
In the poorest country in the hemisphere, the youngest are often the first to be abused and the last to get help. After a successful, 30-year career in Boston, Nicole Muller César returned to her native Haiti 10 years ago to assist children who are the victims of violence, exploitation, sexual abuse and abandonment.
Nicole started a school in an impoverished neighborhood of Tabarre to provide holistic support for children -- including basic education, medical, dental, counseling, weekly home visits and for most students their only meal of the day. Today, the Institute for Human and Community Development assists and educates 250 children ages 6 to 16 six days a week.
José Silvestre Sánchez, Cáceres, Colombia
Nearly 75 percent of the inhabitants of Cáceres in the State of Antioquia, Colombia, live in poverty -- and almost half of them are in extreme misery. For residents of Afro-descent, the situation is even worse.
When José and his 10 siblings inherited a farm, he convinced his family to provide land to 38 Afro-Colombian families who scratched out livelihoods working on other people's property. José also organized them into a cooperative farm and created a distribution network for their harvest.
Yoani Sánchez, Havana, Cuba
Writing a blog may seem common today -- unless you live in Cuba. That did not stop Yoani Sánchez, a 33-year-old Cuban who writes an independent blog called Generación Y that chronicles everyday life in Cuba. The government has blocked her blog on the island. Once her observations are posted, she cannot see her words online. Yoani is also teaching other Cubans how to write and publish blogs -- regardless of whether they will actually see their final words online.
Andrea González, Bogotá, Colombia
Twice displaced in terrifying ordeals connected to civil unrest, Andrea González brought her family to Bogotá seeking stability and freedom from fear. She enrolled in a program that trains internal refugees like her to create handmade products. Following her training, Andrea tapped into her natural skills as an enthusiastic leader to organize other internal refugees to become entrepreneurs and overcome their circumstances.
Juan Ayala, Santa Marta, El Salvador
In 1981, Juan Ayala, his family and his neighbors were forced by soldiers and paramilitaries to flee their village of Santa Marta. After spending 7 years in a refugee camp, they returned to Santa Marta only to find that their community was leveled. They built a make-shift school but lacked teachers. Juan, then only 16 and a student himself, volunteered to be a teacher. Twenty-one years later, Santa Marta has an entire learning complex that provides K-12 education to more than 600 children. Juan has also grown with the school and is now the director.
PADF's Heroes of the Hemisphere will be held on the Royal Caribbean Cruise Limited's cruise ship Liberty of the Seas, which will be docked at the Port of Miami. The Oct. 24 event is from 11:30 a.m. to 3:30 p.m.
Tickets are $350 each and may be purchased at www.HeroesoftheHemisphere.org or by calling (877) 909-HERO (4376). Seats are limited and are available through Oct. 15, or while supplies last.
In addition to RCCL, the 2009 Heroes of the Hemisphere's partners include MTV, Sony Music, the Center for Hemispheric Policy, Interlex, Star Services Events, Caribbean Network Magazine, Citi and Caterpillar.
PADF is an independent, non-profit organization that creates public-private partnerships that assist the least advantaged people in Latin America and the Caribbean.
Having worked in every country in the hemisphere, PADF engages community-based groups, governments and the private sector in the process of implementing appropriate solutions for sustainable development.
In the past year, PADF's programs impacted more than 4.5 million people in 17 countries. www.padf.org
For more information, contact:
Michael J. Zamba
Senior Director of Communications, PADF
Tel. (202) 458-3969