1. Industrial & Commercial Bank of China, ICBC (China)
The Beijing based ICBC Bank underwent one of the most remarkable faces of growth barely 2 years after going public, which gives a clear indication of investors' preference in the emerging China market. ICBC offers a wide range of personal and corporate banking services which include loan, deposit, credit card, underwriting, trading and currency settlement.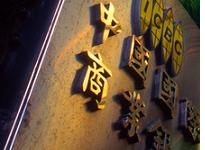 ICBC was listed simultaneously on two exchanges – the Shanghai Stock Exchange and Hong Kong Stock Exchange in 2006, making it the first and only company to do so. ICBC has won numerous accolades and awards from various international magazines including Bankers, Global Finance, The Assets and Finance Asia.
Market capitalization – US277.514 billion. Previous ranking (as of Jan 2007) – 4.
2. Bank of America (US)
Bank of America (BoA) has now taken over Citibank as the biggest commercial bank in the United States by market cap and deposits. Started in California, BoA then grew its operation to Washington, and soon began a rapid expansion nationally and internationally.
In the process of getting where they are today, the bank has gone through good and bad times. In late 1980s BoA suffered huge loss as a result of non-performing loan, which saw the then CEO, Sam Armacost fired and replaced. It almost fell into a hostile takeover but came back with a bang and became one of the biggest gainers in a decade. The bank retains its position in the second spot.
Market capitalization – US195.933b. Previous ranking – 2.
3. HSBC Holdings (UK)
Earlier this year, HSBC was named as the world's most valuable banking brand by The Banker Magazine. The bank was incorporated in England and Wales, with its main office located in London. In 1992, HSBC was involved in one of the world's largest banking acquisition, after assuming full ownership of Midland Bank.
The merger also saw the beginning of HSBC setting up strong market presence, particularly in Europe. Apart from United Kingdom HSBC now also has significant operation in France, Czech Republic, Germany, Ireland, Switzerland, Turkey as well as Malta. Just like Bank of America, HSBC maintains its ranking.
Market capitalization – US176.788b. Previous ranking – 3.
4. China Construction (China)
The bank was first established as the People's Construction Bank of China and was changed to the current name in 1996. The bank's rise to prominence is also helped with the involvement of Bank of America which injected some significant amount of investment for the past few years. In 2005, the China Construction bank landed into a scandal that involved the Chairman of the company, Zhang Enzhao.
Zhang was alleged to have received one million dollars bribe from an American company, which in return asked for an award of contract. Zhang eventually resigned from his post. The bank has more than 13,000 branches across its native country China, as well as active operation in Singapore, Hong Kong, German, Africa, Japan and Korea.
Market capitalization – US165.234b. Previous ranking – 7.
5. Bank of China (China)
The third and final bank from China to make it to the top 10. In China, there is the term referred as the 'Big Four' banks and Bank of China is one of them.
Bank of China is the first bank established in the land of the dynasties. In the earlier years, the bank acted as the Central Bank but then its role was replaced and then converted into a full-fledge commercial bank. While the bank has overseas operation in Australia, United Kindom, Canada, United States, Brazil, Japan, Philippines, Malaysia and Korea, the overseas business only accounts for less than 5 percent of the company's overall revenues.
Market capitalization – US165.087b. Previous ranking – 6.
6. JPMorgan Chase (US)
JPMorgan Chase offers investment banking, financial services, wealth and asset management, and private equity. The current entity is a result of a series of mergers, with its original name did not sound anything like the current, which was the Chemical Banking Corporation.
JPMorgan is based in the downtown of New York, Manhattan. Additionally, the investment wing of the bank operates a number of offices around the world, with major presence in the United States, London, Tokyo, Singapore and Hong Kong. BusinessWeek ranked JPMorgan in the Top 10 Best Places to Launch a Career in 2006.
Market capitalization – US159.615b. Previous ranking – 5.
7. Citigroup (US)
A year ago, Citibank was the largest bank in the world but how different it is today. From a world champion, the group slumped to 7th, only in a space of few months. The bank was established almost 200 years ago by a number of merchants in New York.
After going through changes in ownership, the bank stamped its presence as the country's largest bank in 1865, and soon became the first US bank to set up operation in overseas. Mergers and acquisition followed and the bank could only grow larger and larger. The group faced one of the toughest test for the last 12 months with the weakening US economy and the collapse of the subprime mortgage market.
Market capitalization – US140.698b. Previous ranking – 1.
8. Wells Fargo (US)
Formed by the founders of American Express company, Wells Fargo has its headquarter in California and the bank offers specialized financial services such as asset management, real estate business, debt products, advisory, securities investment and capital management. The group itself, however, is involved in more than 80 distinguished business areas.
Wells Fargo became the first bank to have introduced internet banking after introducing web access to its customers in 1995. The bank also works closely with small and medium sized companies, giving small business owners access to business loans and lending.
Market capitalization – US112.365b. Previous ranking – 11.
9. Banco Santander (Spain)
Banco Santander is the largest bank in Spain, and the second largest in Europe. The bank, which involves in retail banking, asset management and insurance, and global wholesale banking, employs more than 120,000 people worldwide, serving 68 million customers, a figure higher than the whole population of Spain.
Altogether, the group operates in more than 10,000 branches worldwide. The group is also one of the premium sponsors for McLaren-Mercedes F1 team. Banco has strong market presence in Portugal, United Kingdom and in Latin America including Brazil, Mexico, Chile, Argentina, Venezuela, Uruguay, Colombia, Peru and Puerto Rico.
Market capitalization – US109.862b. Previous ranking – 12.
10. Mitsubishi UFJ Financial, MUFG (Japan)
Mitsubishi UFJ Financial groups runs The Bank of Tokyo-Mitsubishi UFJ, which is a result of a merger between The Bank of Tokyo-Mitsubishi and UFJ Bank Limited in 2006. The group, which is listed in five stock exchanges – Tokyo, Osaka, Nagoya, New York and London, is presently the largest financial services company in Japan in terms of size of assets.
Headquartered in Tokyo, Japan, the company holds a total asset of US1.2 trillion and is one of the biggest companies in the Mitsubishi Group. MUFG is now headed by the the President and CEO, Nobuo Kuroyanagi, an MIT business graduate.