New York (Nov. 5)
-- Bernard Kerik, the former police commissioner of New York City whose meteoric rise to the national spotlight was matched only by his even faster fall, pleaded guilty Thursday in federal court to eight felony counts that included lying to the White House and tax crimes. The plea agreement calls for a sentence of up to nearly three years.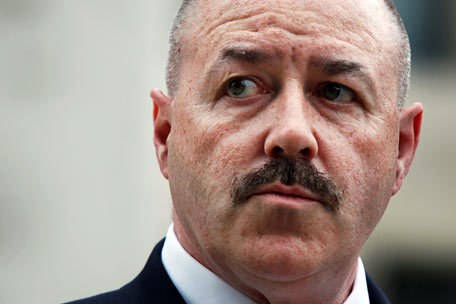 "It is a sad day when the former chief law enforcement officer of New York City pleads guilty to eight federal felonies," U.S. Attorney Preet Bharara said in a prepared statement.
Lawrence Kobilinsky, an acquaintance of Kerik and a forensics professor and chairman of the Department of Sciences at John Jay College in New York , was trying on Thursday to grasp the idea of the tainted American icon going off to prison for a while.
"That is just amazing," Kobilinsky said. "It's ironic to see him behind bars right now. It's kind of shocking in a way. It's sad, especially since he was the commissioner of corrections. This is astonishing."
But, he added: "We live in a land of laws, and there's no excuse for breaking the law. He was always strong-minded with a strong ego. He felt he was always in control, always in charge. I think the danger there is you do things that go beyond the things you should be doing."
As part of the guilty plea, federal prosecutors agreed to erase his Kerik's pending federal trials -- two in New York and one in Washington. The deal, which recommends a 27- to 33-month prison term, was entered before U.S. District Judge Stephen C. Robinson, who was scheduled to preside over Kerik's first trial in White Plains, N.Y.
Kerik, 54, pleaded guilty to two counts of tax fraud, one count of making a false statement on a loan application and five separate counts of making false statements to the federal government. Two of the charges related to statements Kerik made to the White House while the Bush administration was considering him to lead the Department of Homeland Security. He also agreed to pay restitution of $187,931.
Kerik admitted that he failed to report the $255,000 value of a renovation done free of charge by a New Jersey contractor that was trying to land a city license. He also admitted that he lied about the renovations and his relationship with the contractor, which had suspected mob ties, when he was being vetted for the White House cabinet post.
Sentencing was set for Feb. 18.
The plea agreement closes the latest chapter in a checkered career for Kerik, who became a national hero as New York's police commissioner after the 9/11 attacks.
Kerik became a volunteer bodyguard and chauffeur for Rudy Giuliani during his first bid for mayor. Giuliani later named him commissioner of the correction department and, in 2000, the police commissioner. Kerik remained commissioner until December 2001 and later went on to work in Iraq as an adviser to the Interior Ministry for the Coalition Provisional Authority that administered Iraq.
Giuliani gave Kerik a ringing endorsement to head the Department of Homeland Security in 2004. But a background check found Kerik had unpaid taxes for his nanny. From there, more serious allegations began to surface, and he withdrew his bid for the coveted spot.
About three years ago, he pleaded guilty in New York State Supreme Court to two misdemeanor charges tied to his accepting renovations of his Bronx apartment. He avoided jail time but agreed to a $221,000 fine.
After that, he was hit by several federal charges, which the feds broke down into three separate trials.
Robinson isn't likely to have much sympathy for Kerik during sentencing in February.
On Oct. 20, the angry judge revoked Kerik's bond and put him in the Westchester County Jail for leaking sealed documents to help promote his case. At the time, he described Kerik as "a toxic combination of self-minded focus and arrogance."
Court records show that Kerik voluntarily checked himself into the jail's psychiatric unit on Oct. 22 for 10 days. But the prison gave him a clean bill of mental health and released him from that section.
Kerik remains in jail, but the U.S. Attorneys office said the judge has agreed to address the issue of the revoked bail.
Source:Sphere