Tempete won traditional Champions Trophy
In the traditional Champions Trophy between the championship teams of the series of opening and closing the national championship, the Storm of St. Marc rolling (3-1) Racing Club Haitien.
This is the Tempete which, by Sirin Vaniel in the seventh minute of play, opened the scoring. Club Saint-marcois doubled by placing Amius Thompson in the end of the first period.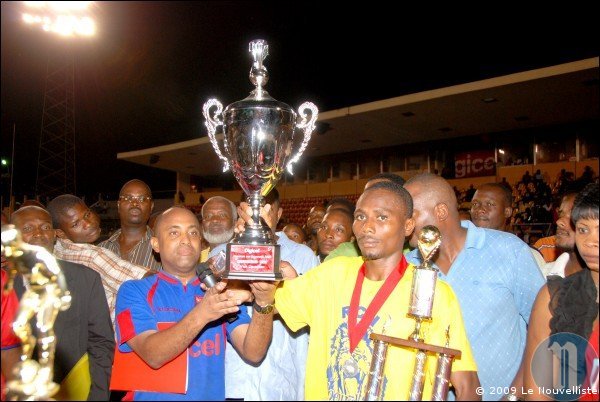 Picture by Lenouvellite
Back after the break, the Old Lion has raised the tone by reducing the mark by Jeff Theodore. Despite the many attacks of yellow and blue to try to find the equalizer, luck was on their side. As an equalizer, but rather the storms that have completed development on a project by Paul Valdano.
Pending the conduct of Super8, the teammates Vaniel Sirin added a new title to their roster this year.
Moreover, in the play-off pitting clubs D1 and D2 Racing Gonaives and the Black Eagle of Bel-Air went to a draw respectively (1-1) (0-0) at Cape Haitien and Grand-Goave.
For this zero obtained at Parc Saint-Victor, men's Racing Gonaïves marked an important step toward maintaining among the elite. In the return match, a draw (0-0) at home to ensure Gonaïviens right to stay in first division men. All is not said to Capois hoping to go to challenge their enemy in their stronghold at Vincent Park.
On the other hand, the Grand Inter-Goave has squandered an opportunity to dictate to Belairiens park enthusiasts. All is not lost yet. Team Grand goâvienne in case of a tie find its classification. She has no right to defeat.
Finally, the meeting spot for the final leg of the championship second division, America prevailed at the expense of the illumination of Gonaives on the score of1-0. The return match is scheduled for this weekend.
CW / HPN