Obama: I give nicer stuff than I get
WASHINGTON (AFP) – The White House may be bedecked with baubles and awash with Christmas cheer, but its most famous resident appears a tad disgruntled with Santa.
When it comes to gifts, "I give nicer stuff than I get," President Barack Obama said half-jokingly in a interview to air on ABC television Sunday.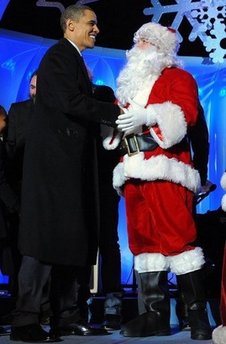 Quizzed about Christmas-time giving by Oprah Winfrey -- a close friend and backer from his hometown of Chicago -- Obama's candidness prompted a nudge from his co-interviewee, First Lady Michelle Obama.
"No way!" she shot back, "I gave you good gifts last year."
But Obama ceded little ground: "Absolutely -- aw, come on please," he said pointing to a double-stranded pearl necklace that was a gift for their wedding anniversary.
"Who gave you this?" he asked with a grin.
Michelle Obama may not be alone in questioning the president's claim to gift-giving greatness.
The 48-year-old was earlier criticized when he presented British Prime Minister Gordon Brown a DVD set of Hollywood films, which apparently did not work on a European player.
He also raised eyebrows by giving the Queen of England an iPod and Australian Prime Minister Kevin Rudd a copy of the sheet music for "The Star Spangled Banner."
Obama meanwhile has received a taekwondo outfit from South Korean President Lee Myung Bak, a book from his Venezuelan counterpart Hugo Chavez and a jersey from a Stanley Cup-winning ice hockey team.
In the conversational interview, the US president said his all-time favorite gifts were a 10-speed bicycle he received one year and a basketball his estranged father gave him one Christmas.
"You know, I do remember the one time I met my father he was visiting during Christmas and he gave me a basketball and -- the degree to which I came to love basketball -- it wasn't until much later in life that I realized, 'Actually, he gave me that basketball,'" Obama recalled.
"I think there was some cause and effect there in terms of the degree to which I just ended up taking up the sport as a kid who didn't know his dad."
Obama's Kenyan father and American mother separated when Obama was two and the president has spoken about the problems children face growing up with an absent father.
Walking down memory lane, Michelle said her favorite toy from childhood was a metal dollhouse with plastic furniture.
"I remember I really didn't know how to set up a house so I had all the furniture lined up along the walls as opposed to nestled around the fireplace, but I loved that little dollhouse," she said.
The intimate, hour-long special also features Winfrey's first one-on-one conversation with the president, an interview with the first couple and behind-the-scenes preparations for the holiday season at the White House.
"From the very first day they moved into the White House, I started calling (White House spokesman) Robert Gibbs," Winfrey said in a statement released by her production company, Harpo Productions.
"I wanted an opportunity to sit down with them in a comfortable setting that all of America would be familiar and relate to," she added, noting that "this has been in the making for a very, very long time."
Source: AFP