'Nuclear' Iran marks Islamic revolutionTEHRAN (AFP)
– Iran declared itself a nuclear nation on Thursday as it marked the Islamic revolution's 31st anniversary and launched what Washington called an "unprecedented" crackdown on opposition supporters.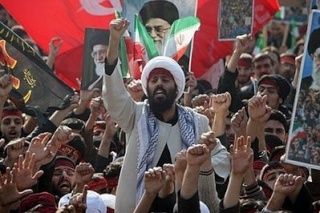 The elite Revolutionary Guards and police had warned they would clamp down heavily on any protests which, since they first erupted last June, have threatened the very pillars of the Islamic regime and split the senior clergy.
As vast crowds massed in Tehran to mark the 1979 revolution, the security forces attacked opposition leaders Mohammad Khatami and Mehdi Karroubi while clashing with their supporters, an opposition website said.
Related article: Key dates since the 1979 revolution
The State Department said later that US monitoring showed Iran had attempted "a near total information blockade" to deal with the protestors, which a spokeman labelled as an "unprecedented, overwhelming step."
President Mahmoud Ahmadinejad used a keynote address to hundreds of thousands in Azadi (Freedom) Square to boast Iran was now a nuclear nation as he announced the production of its first highly enriched uranium.
"One day they said we cannot enrich uranium, but with the resistance of our leader, nation ... and with the help of God, the Iranian nation has become nuclear," he said, defying mounting Western calls for new UN sanctions.
The European Union warned later that it would announce new sanctions within "days or weeks" even if the UN Security Council failed to do so.
Iran had previously enriched uranium to just 3.5 percent but has started enriching it to the higher level required for a Tehran medical research reactor after snubbing a UN-drafted plan for the nuclear fuel to be supplied by France and Russia.
"Even if this is the first time we enriched to this level, the process is working perfectly," Salehi said.
Related article: HRW says Iran rights abuses increases
Opposition website Rahesabz and witnesses said clashes took place at Sadeghieh Square, about a kilometre (half a mile) from Azadi Square to mark the toppling of the US-backed shah in 1979.
The website said the cars of the two leaders came under attack by police and plainclothes security men but that neither man was hurt. It added that police had fired tear gas at crowds of opposition supporters at several sites.
Zahra Rahnavard, wife of main opposition leader Mir Hossein Mousavi, was also "beaten" while Mousavi himself was prevented by security forces from joining the rally, according to another opposition website, Kaleme.org.
The reports could not be independently confirmed as the foreign media have been barred from covering opposition street marches.
Rahesabz also said ex-president Khatami's brother Mohammad Reza and his wife Zahra Eshraghi, a granddaughter of the Islamic revolution leader Ayatollah Ruhollah Khomeini, were briefly detained by security forces.
Karroubi's son Hossein told AFP his father was "not injured but his guards who were accompanying him were."
Security forces "fired tear gas and were brandishing knives when they clashed with our supporters" before the cleric reached Sadeghieh Square in western Tehran from where he was supposed to join the marches.
Karroubi's other son Ali was also arrested, Hossein said.
State television showed footage of men, chador-clad women and children carrying banners reading "Death to America, Death to Israel!" massed at Azadi Square.
The hardline president told the crowd Iran would soon triple its daily production of low-enriched uranium (3.5 percent), in defiance of the West and its threats of new sanctions.
"They (Americans) want to dominate our region but the Iranian people will never let them do that," Ahmadinejad said.
Iran's all-powerful supreme leader Ayatollah Ali Khamenei thanked people for participating in the marches.
"This nation, with the help of God, will trample any obstacle which comes in its way," Khamenei said in a message.
Celebrations to mark the anniversary have traditionally been festive, and an opportunity for Iranian leaders to showcase public support.
But this year's event was disrupted by anti-government protests despite a massive security operation.
A witness told AFP police fired "tear gas and several rounds from air guns at opposition supporters." Demonstrators were "hit with batons and iron rods by plainclothes men."
Timeline: Political turmoil since disputed elections
The protests also spread to at least three other cities, including Ahvaz in southwest Iran, capital of the main oil-producing province of Khuzestan, and Isfahan in the centre of the country, opposition websites said.
About 100 arrests were made in Iran's second city Mashhad, they said.
The scale of the crackdown was evident on the streets of suburban Tehran late on Thursday, when witnesses saw queues of up to 150 people outside police stations hoping to check on their arrested relatives.
Iran's nuclear defiance and its crackdown on protesters drew new warnings from the West that the world's patience was running out.
EU member Finland supported multi-party dialogue with Iran over its nuclear drive. "If these talks don't give results .... then we go to sanctions," its foreign minister, Cai-Göran Alexander Stubb, said in Canada.