The United States made easy work of Honduras at Chicago's Soldier Field on Thursday night, looking the more lively side for the full 90 minutes of their 2009 CONCACAF Gold Cup semi-final and winning 2-0 with a goal in each half. The hosts and holders will now move on to the final, their third in as many instalments of the regional cup of nations, on Sunday in New Jersey. They will face either Mexico or Costa Rica.
The Americans took the edge early against a lethargic-looking Honduras, creating chances through Brian Ching and Robbie Rogers. But as the Central Americans forced their way back into the contest, the hosts needed to wait until the stroke of halftime to finally pry open the scoring.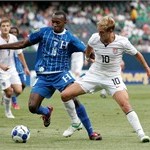 Minutes after Martin Chavez rattled the USA crossbar, Stuart Holden - one of Bob Bradley's top players at these finals - swerved in a dangerous corner-kick with his right foot. Tall defender Clarence Goodson, who plays his club football in Norway, powered a thunderous header home in the 45th minute to take a hard-fought lead for the Americans into the changing room.
They came out in the second half looking to extend their lead. Putting good pressure on the Honduran rearguard, they forced Donis Escobar into three good saves in quick succession inside 10 minutes of the restart. However, as the Americans failed to capitalise on their early chances, the Hondurans nearly drew level in the last ten minutes, Carlos Costly forcing the US backline to scramble away the opportunity.
The US finished off the job in the 90th minute, when substitute Kenny Cooper poked home his second goal in two games after a great bit of build-up by Holden and Santino Quaranta. "I'm thrilled we won the game. We played well overall, even though we had some sloppy moments," said USA creator Holden. "We're just thrilled to have booked our place in the final. We'll just need to regroup now, get our focus and get ready for the final."
The USA are now 90 minutes away from winning their fifth CONCACAF Gold Cup. The showdown with either Mexico or Costa Rica - who play later in Chicago on Thursday - in the Meadowlands on 26 July will be the Americans' third final in as many instalments of the biennial regional showpiece.
Source: FIFA