Haiti-Cooperation: A Taiwanese mobile medical mission provides care free
A Taiwanese medical mission of nine members provide free care to the Haitian population of 10 to 19 November in the eyes, teeth and stomach, found PNH.
This Friday, November 13, the press was able to see the work of surgeons, ophthalmologists and dentists in the Medical Mission Mobile Taiwan who treated twenty patients at the Faculty of Dentistry, Hospital of 'State University of Haiti and the Office of Labor Insurance Accident, Sickness and Maternity (OFATMA).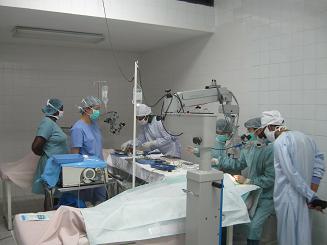 These patients are cared for without spending a penny for operations that otherwise would have cost up to $ 2,000 U.S., such as the correction of cataract.
What has been told to Taiwanese Ambassador, Mr. Shu Mien-Sheng, that all these operations in the eyes, teeth and abdomen (hernia) "will help change the lives of more than one especially the poorest who can not find such a sum.
Over two hundred people will be able to see their lives change after the mobile medical mission is in its second visit to Haiti after 2008.
Thirty people will be operated for cataract at the General Hospital. At tooth, it will be mining and prophylaxis. At the Faculty of Dentistry, they were a few dozen to be treated by three medical specialists assisted students in dentistry "who also enjoy learning new techniques," according to Dean of the Faculty of Dentistry Marius Jean Lafond.
"More than 2 500 people responded to the call of the Taiwanese mission launched a month ago, but only two hundred people just to be selected by the Haitian authorities, as this surgery" for his part said Chi Wang-der, Minister Counselor at the Embassy of Taiwan in Haiti.
In our press, the Embassy of the Republic of China (Taiwan) had informed the public that patients suffering from cataract, hydrocele, umbilical hernia, inguinal hernia, sebaceous cyst, fibroadenoma of breast lipoma and those requiring dental register in OFATMA and Universite Tabarre to get free care.
These operations are performed by a medical mission volunteer Wan Fang Hospital in Taiwan in conjunction with local medical authorities. They are part of strengthening friendship and solidarity among peoples of Taiwan and Haiti, said Ambassador Mien Shu-Sheng.
The Taiwan authorities in Haiti promise to give an overview of operations on Friday during a news briefing.
DD / HPN