5 Thanksgiving Disaster stories
Sure, we like to pretend that Thanksgiving's a magical time when family and friends sit down together in the spirit of joy and harmony, expressing only the warmest feelings of friendship and caring over a deliciously-prepared turkey dinner ... but we know that's only one side of a complex tradition made up of cooking disasters, shaky truces, and general family disfunction.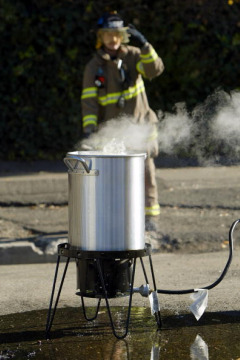 Oh yes, Thanksgiving has a dark side. There's a lot riding on that turkey dinner ... and countless Thanksgiving get-togethers around the country are precariously balanced on the edge of a deep, dark chasm. One false move, one careless retort, or one momentary lapse in fire safety can send the entire celebration spiraling into the depths of a Turkey Day inferno more awkward than you can possibly imagine.
Here are a few cautionary tales that show just what can happen when the stuffing hits the fan:
The Turkey That Wouldn't Fly: I was hosting a Thanksgiving barbecue in San Francisco (we can do that in this climate). The grill was knocked over by a guest who had more than their share of champagne, and the turkey rolled off of the patio, and fell 4 stories to the street below. This was all about 1/2 hour before we were going to eat. I could have prevented this disaster by simply moving the grill farther away from the patio's edge, and serving less champagne. -- Retromarin, San Francisco, CA
Pass the Fruit Salad: One year, when we were living in LA, we invited our trainer (who was of course an actor) to join us at Thanksgiving. He neglected to tell us until he was at the groaning table that he had recently decided to become a "Fructarian" which meant he was eating only fruit. While we all (tried) to chow down, he ate a single pear and talked relentlessly about the benefits of eating only fruit. He also mentioned that there were people who were "breath-arians" and that was his ultimate aspiration. Needless to say, it was challenging to enjoy the meal. And that was his last invite to our dinners! -- Beth Colt, Woods Hole, MA
Green Intentions: My boyfriend and I decided to host some friends for our first attempt at preparing Thanksgiving dinner. We reserved a hormone-free, free-range, raw turkey from the spendy new organic market downtown. We didn't own a car, so Brian picked it up after work the night before Thanksgiving, strapping it with a bungee cord to the rack on the back of his bicycle. It was dark, and pouring rain (it does that in San Diego every once in a while)when he rounded a corner going full speed in rush hour traffic. The 20+ pound raw turkey failed to position itself correctly through the turn, and Brian lost control on the slick pavement. Brian, the turkey and bike slid along the pavement for a few yards, but luckily weren't hit by a car. The bike wheel was too bent to roll, so he arrived home with bike and turkey in the back of a cab, soaking wet and looking pathetic. We had to scrub all the asphalt and gravel out of the turkey before cooking it, and one side of the turkey still had severe road rash. Brian cleaned-up a little better. Our friends enjoyed the story, even if the turkey was pretty sad-looking. -- Amy Rowland, San Diego
Blame it on the Cat: The first year I spent thanksgiving with my new in-laws, we were enjoying conversation while waiting for dinner to cook when the house filled with the most horrible smell you can imagine. My mother in law explained that she'd spilled onions on a burner. The house was aired out, and we enjoyed a lovely meal. Years later, after my mother in law had gotten to know me better, she admitted that the smell had actually been a result of her very ill-behaved cat peeing on one of the burners ... and she'd instructed my father in law to not touch that burner ... and he'd forgotten. -- Margaret Crites
Turkey en Flambé: This year we were running late because I had forgotten a special bottle of wine I wanted to share and we'd gone back home to get it. Dinner was supposed to be served at 4:00 and we finally arrived at 3:30. As we walked down the path to their front door, we were greeted by my sister in law yelling, "Gang way - watch out - coming through" and out of the front door she ran with a pot of heavily smoking artichokes. Little did we know what was in store. As we walked in the kitchen, we noticed on the table a completely uncooked totally raw - turkey. (Remember dinner was supposed to be ready in a half an hour?) "Oh don't worry," they said, "we're barbecuing the turkey and it only takes 45 minutes." Except the barbecue hadn't been started yet.
It seems they were just getting to that when they discovered that the briquettes were wet. So rather than going to the store and getting new ones they decided that they had a solution to getting those wet briquettes to ignite -- gasoline! So, just imagine, if you will, a wooden porch with overhanging pine trees. Yeah. After a dose of gasoline, they were right -- the briquettes did light -- shooting three-foot high flames onto the eves of the wooden house. So they put the lid on the Weber and proceeded to wrap the turkey in aluminum foil. "Don't worry, this is how we had planned on cooking it anyway."
Finally as it was getting dark, they were ready to put the turkey on the grill. Quickly they opened the lid. The column of flame shot up anew and they literally threw the turkey on the grill and slammed the lid down. After a few minutes we saw seriously angry flames shooting out of every air hole in the barbecue. Some were leaking out between the top and bottom of the Weber. The fat in the turkey had reached flash point and it was burning out of control. About 30 minutes (and several glasses of wine) later, it was decided that the turkey was probably done cooking and we should probably take it off the grill. A roof high column of flame shot up as they took off the lid. OK, so how do we get the turkey off the grill with all those flames? Using a fireplace poker, the turkey was pushed of the grill where it landed on the wooden deck, still burning furiously. The fat of the turkey and the foil were one as it kept right on burning.
By now there was talk of calling the fire department. But rather than do that, it was decided that someone needed to "put the turkey (fire) out." Of course, using a fire extinguisher would wreck the turkey (like it wasn't ruined already?) so my father-in-law and my nephews grabbed the first thing at hand -- bathroom sized dixie cups -- and began to "spoosh" the flames out. After a few minutes (and a bit more wine) it was finally out. Now, I don't know who decided it was still edible -- but as was family tradition my father-in-law carved and served that turkey - crispy on the outside and raw on the inside -- and we ate stuffing and burnt artichokes while we enjoyed taking pictures of the inedible bird. -- Karen Frank, Pleasant Hill, CA
Sources: Aol, Holidash