Haitian children evacuated to Phila. hospital
By Carolyn Davis

INQUIRER STAFF WRITER
Getting around a military suspension of medical-evacuation flights from Haiti, a medical aid group brought three severely ill children for potentially life-saving treatment at Children's Hospital of Philadelphia on Sunday.
A 5-year-old girl with tetanus, a 14-month-old boy critically ill with pneumonia, and a baby with third-degree burns caused by sun exposure after last month's earthquake were rushed to the hospital in ambulances waiting at Philadelphia International Airport.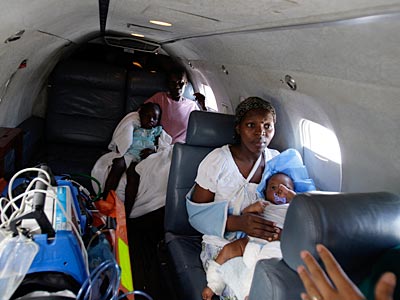 The trip was initiated by the Boston-based medical aid group, Partners in Health, which runs a hospital in Haiti and had earlier sent four other Haitians to Philadelphia for emergency medical care.
A former Partners in Health employee who is now a medical student in Philadelphia has been acting as a liaison between the organization, Children's Hospital, and the Hospital of the University of Pennsylvania, where other Haiti earthquake victims are being treated.
"All three children are being treated and remain in critical condition," Children's Hospital said in a news release about the latest arrivals.
Naomi Rosenberg, 28, a second-year student at the University of Pennsylvania's medical school, said the children were each accompanied by a parent on the flight to Philadelphia in an aircraft donated by a medical air transport company.
The mother of one of the children is at HUP, Rosenberg said last night, and is being examined for a possible leg fracture that occurred during the earthquake.
Rosenberg was unsure how the 14-month-old had caught pneumonia. Five-year-old Betina Joseph's tetanus developed after a small wound she suffered when her house in Haiti collapsed became infected, the girl's mother told Rosenberg.
Joseph was in danger of dying if she could not reach a U.S. intensive care unit and get a feeding tube and oxygen through her locked jaw, doctors said.
While Children's Hospital doctors were examining the youngsters, Rosenberg was comforting the parents, including the father of the 14-month-old, whose wife died in the earthquake that struck Jan. 12.
The airlift had been in doubt after the U.S. military stopped medical evacuation flights on Wednesday night because of apparent concerns over the long-term costs to U.S. public hospitals of absorbing seriously injured Haitian patients.
Rosenberg said Partners in Health had gotten help arranging the flight from the office of Sen. John Kerry (D., Ma.), which made some calls to the U.S. military.