3 Nigerian president has returned homeLAGOS, Nigeria
– Ill President Umaru Yar'Adua returned home from a Saudi Arabian hospital Wednesday two weeks after an acting president was appointed, posing a challenge for this giant nation's fragile democracy.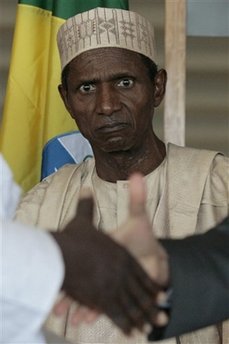 Abdullah Aminchi, Nigeria's ambassador to Saudi Arabia, told The Associated Press that Yar'Adua returned home on an early morning flight that arrived in Abuja, the country's capital. Shaky television footage showed an ambulance leaving the airport but offered no images of a leader who hasn't been seen publicly since leaving Nigeria on Nov. 23.
His arrival sets up a constitutional test for a young democracy that saw its lawmakers use extraconstitutional means to put the nation's vice president into power two weeks ago.
In a statement Wednesday, U.S. Assistant Secretary of State Johnnie Carson said Washington welcomes Yar'Adua's return but is concerned about Nigeria's future.
"Recent reports ... continue to suggest that President Yar'Adua's health remains fragile and that he may still be unable to fulfill the demands of his office," Carson said. "We hope that President Yar'Adua's return to Nigeria is not an effort by his senior advisors to upset Nigeria's stability and create renewed uncertainty in the democratic process."
Aminchi said Yar'Adua needs time to recuperate before assuming presidential powers.
"He's already walking. He eats. He can move about," the ambassador said. "I think he just needs some time to rest and he can go back to his work as president of Nigeria."
Reporters at the presidential villa saw Yar'Adua's chief aide, Col. Onoyveta Mustapha, before a scheduled meeting of the Cabinet on Wednesday but caught no glimpse of the president.
Mustapha had been one of only a few trusted aides who stayed with and had access to Yar'Adua while he received treatment at the King Faisal Specialist Hospital and Research Center in Jeddah. Those surrounding Yar'Adua blocked a delegation of lawmakers from visiting him earlier this month.
Yar'Adua was admitted into the hospital the day after he left Nigeria. As questions mounted, his physician released a statement saying Yar'Adua suffered from acute pericarditis, an inflammation of the sac surrounding the heart.
Though the country's constitution calls for the president to offer a written letter empowering the vice president to take over in his absence, Yar'Adua did not follow that procedure. The Nigerian government ground to a halt in Yar'Adua absence as oil contracts went unsigned and people in the streets worried about the future of Africa's most populous nation.
After more than two months of a standstill, the National Assembly voted to empower Vice President Goodluck Jonathan to take over as acting president. However, the parliament's action specified that Jonathan had to cede power to Yar'Adua upon his return if he's medically capable of leading the nation of 150 million. The lawmakers' vote also went beyond the process envisioned by the constitution, presenting questions on how exactly Jonathan would transfer power back to Yar'Adua.
Yar'Adua long has been plagued by poor health and kidney ailments. During his 2007 presidential campaign, he left the country two weeks before the vote to receive medical care in Germany after experiencing what he described as a shortness of breath. His absence sparked enough concern then that outgoing President Olusegun Obasanjo even made a telephone call to Yar'Adua during a political rally to ask his candidate: "Umaru, are you dead?"
Despite those health concerns, Yar'Adua became president through an election marred by fraud, intimidation and violence. It marked the first time power was transferred from one elected civilian to another in Nigeria, which became independent from Britain in 1960.
___
Associated Press Writer Bashir Adigun contributed to this report from Abuja, Nigeria.