France will give 326 million Euros in aid to Haiti
Haiti: The France will pay an amount of 326 million euros in aid to Haiti, battered by the earthquake of January 12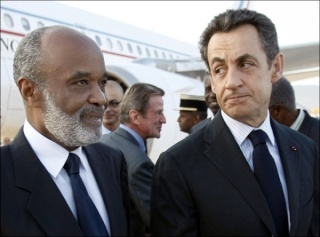 a sum that includes the cancellation of debt of 56 million euros, said French President Nicolas Sarkozy during a visit to Port-au-Prince on Wednesday.
"We will take steps very concrete," said the French president, the first visit to Haiti during a news conference with his Haitian counterpart René Préval in the gardens of the Presidential Palace which was destroyed by the earthquake .
The earthquake of January 12 has claimed at least 217,000 dead and deprived of a roof over one million Haitians.
Paris will include 1,000 tents and 16,000 tarpaulins available to Haitians. These resources should allow temporary shelter 200,000 people in anticipation of the rainy season.
In addition, 250 vehicles (police, police, ambulance, fire) must be sent to Port-au-Prince.
The France is also committed to rebuilding the State University Hospital Port-au-Prince and to accommodate hundreds of Haitian officials in its large schools like the Ecole Nationale d'Administration (ENA), for example.
Other assistance measures announced by the French Presidency: the training of 70 managers and officers of the Haitian police and technical support to find the 300 most dangerous fugitives (who used the earthquake to escape from prison), placing provision of a one hectare plot (belonging to France) in downtown Port-au-Prince to resettle some of administrative services, sending 150 youth civic service to help re-schooling.
Universities French Antilles and Guyana will also accommodate 700 additional students in Haiti, with commitment clause return to Haiti after the training.
"Haiti is for Haitians. The international community, France, will help, but the project (reconstruction) is yours," warned Mr Sarkozy.
"This disaster requires you to make a revival and you turn your back on past mistakes," he added, referring to the preponderance of the capital Port-au-Prince at the expense of the rest of the country.
"France does not want international trusteeship on Haiti," he also said. And while the Americans, who are on the frontline here for emergency aid and reconstruction have been accused by some of wanting to regain a foothold in a country they have occupied from 1915 to 1934, the Head of State has paid tribute to their "very good job on the spot". "We work hand in hand with partners, American or Canadian," he added.
President Preval has said his side need to "rethink the overall organization of the country on a totally new. This country is not to rebuild it is to build," he said.
During the press conference the two presidents, hundreds of Haitians demonstrating in a few tens of meters away cons René Préval, "incompetent", they said, to cope with the situation.
They demanded the return of Jean-Bertrand Aristide, former Haitian president and first elected after decades of dictatorship, now in exile in South Africa. "Titid, nap or tan'n", "Titid, there waiting for you" in Creole, we read their leaflets.
After the press conference, Mr Sarkozy flew to Martinique, where it must include a visit to the small Haitian hospital in Fort-de-France.
Source: Lenouvelliste (French)
Levanjiltv: English translation