Digicel offers phones for NGOs working in Haiti
Haiti:
The mobile phone company Digicel has provided about 15 000 phones to over 25 organizations including international organizations in order to facilitate their work on the country after the earthquake of January 12.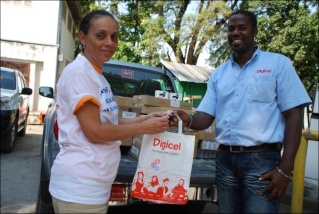 Program for United Nations Children's Fund (UNICEF), United Nations Development Program (UNDP), International Organization for Migration (IOM) and CARE International are part of the list of beneficiary institutions this means communication.
The Digicel Haiti officials intend by this approach to encourage these institutions communication through their advocacy, coordination and aid deployment. They stress that these tools will help these organizations to ensure their mission of support and guidance to the Haitian people. More than 650 BlackBerry phones have also been distributed free by Digicel since the earthquake.
"Digicel is committed to be always with the Haitian people in all circumstances," said Tatiana Policard, Marketing Director of Digicel Haiti, which has prided itself on the enthusiasm and spontaneity of his company. The major national tragedies like that of January 12 last challenge us more. "
"If our actions are more effective in the working group on management of refugee camps, which the IOM is the coordinator, communication is a crucial factor, said Mark Turner, representative of the IOM. The aid offered by Digicel teams IOM and social and humanitarian workers is very useful because it allows us to better coordinate our actions on the ground.
Source: Lenouvelliste (French)
Levanjiltv: English Translation