Google, HP, Motorola, Kodak, Cisco, Tech Data expected in the first edition of a technology fair in Haiti
Google, HP, Motorola, Kodak, Cisco, Tech Data expected in the first edition of a technology fair in Haiti
Posted November 17, 2009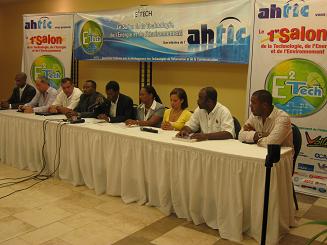 Google, HP, Motorola, Kodak, Cisco, Tech Data will be attending the first ever event of Technology, Energy and Environment to be held from November 20 to 22 coming to Port-au-Prince.
Yes ICT for development! This theme will lead the 1st edition of the show of technology, energy and environment (E2TECH) to be held at the Karibe Hotel by the Haitian Association of ICT (AHTIC).
While in Haiti is not the time entirely to the extension of ICT, it is now a question of looking through them for development of the country, according to officials of the AHTIC.
The Information technology and communication are a prerequisite for the creation of wealth in Haiti, but there are constraints related to energy and environment, said Matthias Peter, President of AHTIC. Hence the theme of the show where exhibitors will not only present products, but also discuss practical solutions to the problems of the country and should encourage the relevant discussions.
This initiative, which gives the objective of promoting a climate conducive to the development and dissemination of ICT in the country, presenting all of Haiti's business sector, it also hosts major international players such as Google, HP, Motorola, Kodak, Cisco, Tech Data and companies from countries of the Caribbean.
The other objective of this fair is to promote cooperation among industry competitors. This explains the co-sponsorship of activities by competitors and rivals the most emblematic of mobile telephony in Haiti, Digicel companies and Voilà.
The sponsors also invite the public to visit the salon AHTIC which, according to proponents, is particularly targeted at young people, the portion of the population must also familiarize themselves with ICT.
mjb8484@yahoo.fr
MJB / HPN