Preval and Clinton aspire to elections as soon as possible Haiti:
The Haitian president, René Préval and the head of American diplomacy, Hillary Clinton, both on Tuesday stressed the need to hold elections as soon as possible in the Caribbean country hit by a devastating earthquake in January.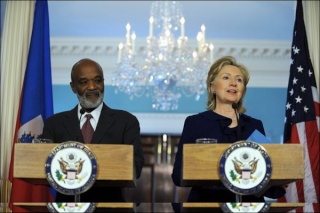 "We must find a way, and specialists will do, so that when I leave (power), there is a parliament and a president elected," said Head of State after a Washington meeting with Mrs. Clinton.
"The worst," he added, "is to have a government that has no legitimacy, which is entering a period of provisional government. We need a government that has popular legitimacy.
"We must work (...) I elections to President Préval assured that the United States would work with the international community that elections be held as soon as is appropriate," said his side the Secretary of 'State.
The Haitian Provisional Electoral Council (CEP), whose premises were destroyed by the earthquake, has indefinitely postponed parliamentary elections due in late February. The presidential election is expected in December, Mr. Preval's mandate runs until February 2011.
Source: Lenouvelliste (French)
Levanjiltv: English Translation